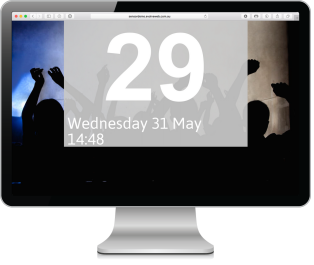 Brochures - People Counters
Video Demonstration
Contact for pricing
The People Inside Web App for the IMMOTION Cloud Edition enables organisations to view the number of people currently inside a venue. This feature is ideal for venues that are required to monitor capacity numbers in real time to comply with government regulations, liquor licensing laws, venue capacity limits, etc.
Our wireless people counters record the number of people entering and exiting a venue and automatically send the data every minute to the IMMOTION Cloud. We also offer Instant People Counters that relay data in real time without any lag to ensure you're getting accurate to-the-second patron numbers.
From this information, the People Inside Web App calculates and displays the total number of people in the venue at any one time, and supports single and multiple entrance/exit points.
The live count total is displayed on a responsive designed web page compatible with TV screens, desktops, tablets and smartphones. The live count total constantly updates higher or lower depending on the number of people entering or leaving the venue.
As our people counters only count and do not identify people, the privacy of people passing through our counters is assured.
General Features
Cloud hosted for easy access to current occupancy data
People inside / current occupancy display
Single or multiple entry points
Easy installation
Long battery life (for Wireless Infrared Model)
Exceptional after sales support
Web based analysis dashboard
1 Year Warranty
Package Features
Optional Extras: